An LPG van aimed at helping reduce emissions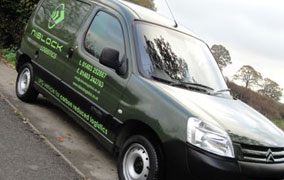 With the world's climate changing, we too are trying to do our bit to cut our CO2 emissions and be a bit more greener. We already do not make journeys if they are unnecessary, but now we are pleased to introduce the latest edition to the fleet. Our new Citroen Berlingo is a duel fuel vehicle that runs on LPG (Liquid Petroleum Gas). LPG emissions are a tiny fraction of those emitted from diesel vehicles. NOx emissions from an LPG vehicle are up to one half those of petrol and around one-tenth of those for diesel – even greater reductions can be found in urban use.
The Government's Climate Change Programme targets a bundle of greenhouse gases. Of these gases the most relevant for LP gas vehicles is CO2 where the emissions are typically between 11% and 12% lower than ultra low sulphur petrol. Our Greener green Berlingo has been a hit with our customers, especial those companies that care about the environment.We are working with our suppliers and looking to the next generation of environmentally friendly vehicles, but in the mean time we will be a bit greener with our 'Greener Green Berlingo'.